Issa's Spirit Alive Today in His Home Town

Mt. Myoko in Early Spring - Photo by Shuichi Fujita (1995)
Shinano Town, Nagano Prefecture, is located on the border of Niigata Prefecture famous for much snow in winter. It is near Lake Nojiri, with Mt. Myoko in the north, Mt. Kurohime in the west and Mt. Madarao in the west, about 20 km north of Nagano City, the capital of Nagano Prefecture, where the 1998 Winter Olympics Games will be held. In Shinano Town are:
Issa's Residence, actually a warehouse where Issa lived after the town fire
The Issa Memorial Hall (FAX: +81-26-255-3741)
The Ethnological Museum of Issa's Home Town (FAX: +81-26-255-5505)
Omokage-do (used to be called Haikai-ji by mistake --- it is not a Buddist temple.)
Note:The last three items are in Komaruyama Park, overlooking the town and commanding the dominating view of Mt. Kurohime and Mt. Myoko, where Issa's Tomb is also located.
Myosen-ji Temple
More than 60 monuments of Issa's haiku
For those who live in Shinshu, who were brought up in Shinshu, or who love his haiku poetry, Issa is alive today in our hearts.

In northern Nagano Prefecture where I spent my boyhood right after World War II, each 3rd grader was given before the winter holidays (from Dec. 20 through Jan. 10) a homework book, compiled by the Shinano Committee of Education, which contained Issa's haiku from which we had to make the "karuta" cards to play with.
In answer to the question from Ewa Tomaszewska, Poland: The "karuta" cards are 50 pairs of cards. On one card (Jifuda, the character card) is written the wording in Japanese characters, such as Issa's haiku, and on the other card (Efuda, the picture card) is drawn a picture presenting the scene of the wording. As the children start playing the cards, they gather around the picture cards spread on the floor, listen to the haiku as one of the children or an adult reads aloud the wording one card by one card, try to locate the corresponding picture card and touch it by hand. The child who touches the picture card first wins it.

The word "karuta" comes from the Portuguese word "carta," meaning the European playing cards (which, as I understand, had come there from India). Karuta probably became popular in the 16th century when the Portuguese came to Japan, but it is based on an old tradition of the Japanese playing cards used for learning the characters or poems, such as the "Ogura Hyakunin Isshu," Teika Fujiwara's seletion of 100 popular waka (5-7-5-7-7 syllable poems), from the 13th century, which is still played today by the adults. (September, 1996)

The Train on JR Iiyama Line Running
Through the Rice Paddy Fields (right)
Photo by Shuichi Fujita (1996)
Haiku is so popular in Northern Shinano that the Shinano Mainichi Shimbun, the most popular newspaper there, has the "Haiku This Morning" column on the first page, with one haiku contributed by a reader and its review. There are two haiku clubs in Shinano Town, Yamabiko (Echo) and Northern Shinano Club, which hold the open haiku meetings on Issa's anniversary, May 5.
Every year on the anniversary of Issa's death (Nov. 19), Shinano Town holds at Myosenji Temple "All Japan Kaiku Contest," to which thansands of haiku are contributed from all over Japan. In 1996, this contest was held on Sept. 21 and 22, a little earlier than usual; and in 1997 on Nov. 19.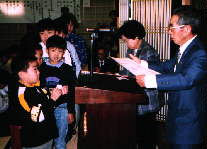 Photos: Myosenji Temple, Kids' Kaiku Contest and the Kids Receiving Awards
Many comments have been sent to me from the people of the world. Some samples follow:
Mark Atwood Bird in Chicago, IL, U.S.A., wrote: "What a great tribute page to Issa! I am presenting him in the next meeting of the Chicago Haiku Society and I am very grateful to find a wealth of information and poetry on this page. Beautifully presented, too. Thanks!! (October, 1997)

Bob Gray in Bucks County, north of Philadelphia, PA, U.S.A., wrote: "Method #2....nice site, by the way!" (August, 1999)

a random kindness
that roadside patch
of tiger lilies
Top of Page | Previous Page | Next Page | Issa's Haiku Home Page
---
今日もふるさとで生きる一茶の心

早春の妙高山 写真:藤田秀一 (1995)
一茶のふるさと、長野県信濃町は冬には雪深いことで有名な新潟県の境境に近く、野尻湖がすぐそばで北に妙高山、西に黒姫山、東に斑尾山があり、1998年冬季オリンピックが開催される長野市の北20kmのところ。信濃町には現在、一茶ゆかりのものとして
小林一茶旧宅(一茶終焉の土蔵)
一茶記念館 (FAX:026-255-3741)
一茶郷土民族資料館 (FAX:026-255-5505)
おもかげ堂(俳諧寺とも呼ばれたことがある): 堂内の格天井には、ここを訪れた著名人の句や書が貼り付けてある。
注:以上3つは小丸山公園にある。ここは柏原の町を見下ろし、黒姫山と妙高山を眼前に望むところで、5月のレンゲツツジや秋の紅葉がきれいで、一茶の墓もある。駐車場あり。
明専寺(一茶の菩提寺、11月19日に一茶忌の法要がいとなまれる)
句碑(60基余の句碑めぐりができる)
などがある。

信州の人々、信州で育った人々、一茶の俳句を愛する人々の心の中で、一茶は生き続けている。

私が第二次大戦終了直後に少年時代を過ごした長野県北部では、小学学3年生の時に冬休み(12月20日から1月10日まで)前に信濃教育委員会編の宿題帳を渡され、冬休みは一茶のカルタを作って遊んだので一茶の俳句を沢山覚えた。
稲田を進むJR飯山線の電車
写真:藤田秀一 (1996)
北信濃は俳句の盛んなところで、北信で一番読まれている「信濃毎日新聞」は毎日第1面に「けさの一句」の欄があり、日本各地から寄稿される一句とその評論が載っている。信濃町には「やまびこ」と「北信濃会」という2つの句会があり、一茶の誕生日(5月5日)に句会を催したりして活発に活動を行なっている。
信濃町は1951年以来、毎年一茶の命日(11月19日)に「全国俳句大会」を主催し(長野県教育委員会、長野県俳人協会、信濃毎日新聞社、信越放送などが協賛)、全国から多くの俳句が寄せられている。一茶170回忌に当る1996年の全国俳句大会は、例年よりも早く9月21日(土)、22日(日)に明専寺と信濃町総合会館で開催され、1997年は11月19日に行なわれました。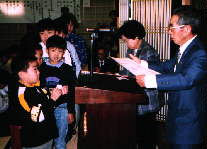 写真: 明専寺、小中学生俳句大会、表彰状を受ける生徒たち
世界の方々からこの一茶俳句ホームページへコメントをいただいています。以下は、その例です。
米国イリノイ州シカゴのマーク・バード(Mark Atwood Bird)さんから「一茶の大変いいホームページですね。私はシカゴ俳句会の次回ミーティングで一茶について話す予定ですが、ここで彼の多くの俳句と情報を得ることができ、感謝しています。画面もきれいでした。感謝! 」(1997年10月)
Top of Page | Previous Page | Next Page | Issa's Haiku Home Page
---
The Issa's Spirit Alive Today in His Home Town page is designed in HTML 3.2. Its contents have been prepared by Yoshi Mikami (三上吉彦 in Japanese). Please send your comments to me at ymikami@tky.3web.ne.jp. Created on Aug. 31, 1996, and update on Sept. 31, 1996. in Tokyo. Last update on Dec. 28, 1997, in Nagano.